Psychic

Readings

We offer a FULL range of psychic readings range from tarot cards, palm, psychic, past life, love and more...

See All Our Services
Chakra

Alignment

Chakras, meridians and accupressure points are the energy centers that enable us to connect ...

See All Our Services
A Little About Us...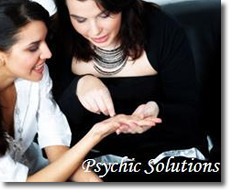 Here At Psychic Solutions, We Provide Self Healing OF the Mind body and Soul We Offer Tarot Card Readings!
Psychic Readings Astrology Charts And Holistic Medicine We Also Offer Seminars on Self Healing We Want to Give Our Clients An Experience like no other A Feeling of Complete Tranquillity And Serenity we carry everything from Teas Books Crystals Candles And Spiritual art from allover the World we've been Providing our Service for over 20 years our Gift has been past Down From Generation to Generation we are Also Nominated by the national astrological associations as california's top psychic advisor.